It all started when I met Glenlivet 21 Year Old -Archive, premium Japanese Sake Jikon Junmai Daiginjo and one famous comic 'Bartender'

When I was young I did not find value in liquor itself. At that time liquor was tool for being drunk and making me high. So I did not feel liquor was delicious except some mixed liquor, which were sweet and easy to drink. I could not enjoy spirits[Hard Liquor Ex:Whisky Vodka Rum Gin Brandy ...].

And suddenly it has changed! It all started when I drank The Glenliviet 21 Years Old
and premium Japanese Sake Jikon Junmai Daiginjo.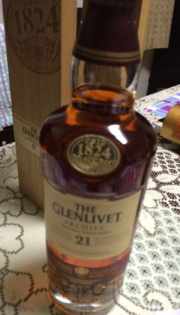 The Glenliviet 21 Years Old -Archive

When I drank The Glenlivet 21 Years Old with my father, I realized that I had underestimated Whisky for a long time. And I understood one fact. if you did not taste real good whisky, you would not be able to see real value of whisky. My father looked surprised when he drank this. He had not drunk Glenliviet 21 years before and when he was young such vintage whisky were so expensive because Excessive tariffs were imposed on Imported goods.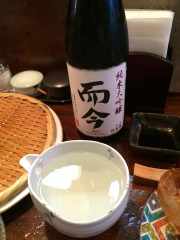 Jikon Junmai Daiginjo

When I worked at Shibuya, I sometimes went to so-called kappo-ryotei (fancy restaurant serving mainly Japanese cuisine) 'Kizahashi-No-Enishi' where I and my colleagues enjoyed delicious cuisine with rare Japanese Sake. The price was not cheap but it was reasonable price. I have tried many rare, excellent and delicious Sake. And one of them 'Jikon Junmai Daiginjo' was my favorite. The taste looked like wine. But it has much smoother taste and it has plenty of body. Most of 'Junmai Daiginjo' class are expensive and rare but if you are interested in Japanese Sake, it worth drinking. Some of them are more costly than famous French wine, but I strongly recommend that you drink them.




When I read Japanese Comic 'Bartender', I became interested in Cocktail. There are many interesting stories.

'Daiquiri [papa double]' and Ernest Hemingway
'Cuba Libre' - Spanish–American War in Cuba
'Godfather' - Marlon Brando[playing Vito Corleone]
'Sidecar' - motorcycle sidecar that the American captain used.
'Churchill Martini' - martini without vermouth[Gin!]

Now I realize there are excellent liquor all over the world. I want to try them as many as possible. But if I drink lots of liquor, it is difficult to remember which liquor I have already drunk and which I haven't. Thus I have decided to record them on this liquor log site 'Booze World'.


Oh! I forgot telling you the reason why some liquor have many pictures taken at different bar or restaurants. The reason is simple. Some cocktail has both original recipe written on cocktail book and bar's original recipe. And though bartenders make cocktails accoring to cocktail books, the taste may have slitly or very different.

I hope you can enojoy 'Booze World'!